First published in League Express, Monday 21st Sept 2009
DOBSON HONOURED AT GOLDTHORPE CEREMONY
By LORRAINE MARSDEN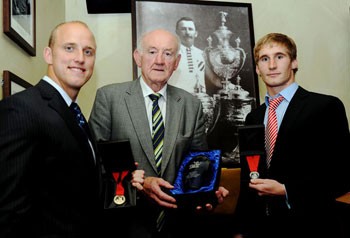 ALBERT Goldthorpe Medal winner Michael Dobson has admitted he still harbours hopes of making his name in Australia's NRL, but not before he has completed some unfinished business with Hull KR.
Dobson was presented with the Albert Goldthorpe Medal last week – a solid gold medal which also carries a prize of £2,000 – after getting 40 points to come top of the Albert Goldthorpe table as he helped steer Hull Kingston Rovers to a fourth placed Super League finish.
"I've been happy with my own form this year, and it's really pleasing to have got this award," the 23 year-old told 'League Express', following the awards luncheon at Headingley Carnegie Stadium.
"The award rewards consistency, and it's nice to know that I've been recognised for playing well all season.
"But there is always room for improvement, and I'm just going to keep working hard on getting better.  We'll see what happens next year, and hopefully it will be more of the same.
"The team will be working towards that, and one of the reasons I decided to stay here is because we all want to improve even more at Hull KR.
"We have a great group of players here, and we definitely have a great chance of winning some trophies, either this year or in years to come.
"Super League suits me a bit more than the NRL at this stage of my career, because I have a bit more freedom to play how I want over here, which is full credit to Justin Morgan.
"Going back to Australia and having a real shot at the NRL is one of my long-term goals, but I still have three years here, and I'm fully concentrating on that and continuing the improvement we've shown since I arrived here.
Dobson follows in the footsteps of Wakefield Wildcats star Danny Brough, who became the inaugural winner of the medal last year, and he admits he is not really surprised that both winners play in the halves.
"Halfbacks tend to be the go-to players in the team," admitted Dobson.
"We often have plays built around us, and halves tend to guide and direct people around the pitch.  That's why we tend to get more accolades, even though other players around us also do a lot of hard work as well.
"My team-mates this year have a played a massive part in me getting this award.  They've helped make me look good all year, and I can only thank them for that.
"It's a team sport, and they've all contributed to this award for me."
TOMKINS IS ROOKIE OF THE YEAR
By RICHARD de la RIVIERE
SAM Tomkins was awarded Super League's Rookie of the Year title at the Albert Goldthorpe Medal awards last week.
The Wigan star was presented with a solid silver medal and a cheque for £500.
The 20-year-old stand-off played only one senior game in 2008 – a Challenge Cup tie against Whitehaven – but has enjoyed a magnificent year after making his Super League debut against Harlequins in February.
The game at the Stoop saw Tomkins pick up two Albert Goldthorpe Medal points after his substitute appearance helped the Warriors overturn a 6-10 half-time deficit to record their first win of the season in their fourth game.
Tomkins has subsequently gone from strength to strength during the course of the season, firmly cementing a regular starting place for himself, and helping the side to a fifth-placed finish in Super League.
"I was surprised to hear I'd won the rookie award, because there's a lot of good players who qualify to win it," said Tomkins.
"But I'm very pleased to have won it.  I expected to play some part in the season but not this much.
"I knew that I wasn't going to play right at the start of the year, but a chance came along and it was great to play some first grade.  I played just once last year, so it was good to get some games under my belt at that level.
"I always thought I was capable of playing in the Super League, but I've also had a few lucky breaks.  The team's been playing well when I've been playing, so I've got to give a big rap to all the team.
"They've been really supportive and have helped me throughout the year.  In particular, it's really helped me playing alongside Tommy Leuluai, who is one of the best halfbacks in the game.  He's someone I really look up to in the game."
The third award last Wednesday, a Lifetime Achievement Award, went to Ray French, in recognition of his services to the game across a wide range of activities, including playing, journalism and broadcasting, his Chairmanship of the Lions Association, and his support for the amateur and student game throughout the country.