First published in League Express, Monday 19th Sept 2011
GLORY FOR CHASE

STARS of Rugby League past and present turned out at Huddersfield's Galpharm Stadium last Tuesday to celebrate the fourth Albert Goldthorpe Awards ceremony.  LORRAINE MARSDEN was on hand to get the reaction of the afternoon's big winners.
CASTLEFORD's season may have ended with a 26-24 defeat to Hull KR just over a week ago, but Tigers' star man Rangi Chase was left with a big reason to smile after winning the Albert Goldthorpe Medal, which is awarded to the best and fairest player in Super League.
Despite having a superb season and starring for the Tigers from the stand-off position, as well as leading the medal table for a large part of the season, the 25 year-old was still surprised that it was his name etched on the solid gold medal.
It all came down to the final round, with Chase going into the Hull KR game just one point ahead of Wigan's Sam Tomkins, a joint winner of last year's award.  Tomkins collected one point from their win over Crusaders, meaning Chase had to earn at least one point to claim the award in his own right.
"I'd not been thinking about the award too much throughout most of the season, but I was keeping an eye on it in the final few matches," said Chase.
"I knew it was between me and Sam Tomkins, and I said to my girlfriend after our last match that I didn't think I would have got it because I felt I had had bad game and knew Sam always played well.  It was a bit of a surprise when I was told I'd won it, I couldn't believe when I was told.  I'm not sure I deserved a point against Hull KR, but I'll take it.
"Things haven't gone well for the team this year, which is disappointing, but from a personal point of view I've probably had my best season so far.  Personal awards like this are rewards for all the hard work during the season, and winning the Albert Goldthorpe Medal is something to be proud of and it means a lot.
"Thank you to my team-mates, coach and girlfriend for their support this season.  On the field, if my team-mates are doing well then it makes my job easier.
"It is an honour to win this medal and hopefully next year I can keep winning awards and then hopefully other successes can come along with it.
"As a player you always want to improve, and learn new things.  Hopefully there is more to come from me, and I can keep getting even better."
The award was presented to Chase, who picked up a total of 40 points from a possible 81, by League Express managing editor Martyn Sadler less then 24 hours after he was named in the Engage Super League Dream Team.
Watch an interview with Rangi Chase recorded at the Goldthorpe Awards Ceremony
JERMAINE McGILLVARY – ALBERT GOLDTHORPE ROOKIE OF THE YEAR
AFTER bursting onto the scene this season and playing 26 out of 27 league games for Huddersfield Giants, winger Jermaine McGillvary beat off stiff competition from a huge number of rising stars to be named the 2011 Albert Goldthorpe Rookie of the Year.
The solid silver medal was presented by England coach Steve McNamara.
After spending spells out on loan in the Championship over the last few seasons, McGillvary began 2011 determined to make a name for himself at the Galpharm Stadium and fight for a place in the first team.  Once he was given that chance he never looked back, and beat off stiff competition from Wigan's Josh Charnley to claim the solid silver medal prize.
"This is a huge honour for me," said the 23 year-old, who knows there is still a lot of improvement in his game.
"I've worked really hard to get to where I am now, and a lot of people have put a lot of time and effort in to me as well, so to win this award is a great reward for all of that.
"My game is coming on, and I'm getting fitter and stronger.  I'm also reading the game a lot better now.  I aim to improve with every game I play, and each week I have my own little goals to try and reach.  I have to listen to my coaches and continue to work hard with Huddersfield, and we'll see what happens in the future."
WARRINGTON WOLVES – ALBERT GOLDTHORPE CLUB OF THE YEAR
IN a new award introduced in 2011, Warrington Wolves became the first club to be named the Albert Goldthorpe Club of the Year in an award decided by the culmination of the points each team's players picked up throughout the season.
Wolves coach Tony Smith was on hand to collect the award from RFL President John Whaling, and was quick to praise the strong team spirit that helped them win the award by collecting 124 points out of a possible 162.
"I am very proud we have won this award and it represents the fact we've played well together as a team," said Smith.
"It shows the progression we've made over the last few years.
"For us, the emphasis is not so much on getting the win, we just want to perform well each week.  It's not just a winning mentality, it's about how we perform and the way we go about our work.  Everyone has bought into that, and it shows in the way we play the game.
"All we ever ask of anyone is to do their best, and when you do that quite often results do go your way."
MIKE 'Stevo' STEPHENSON – ALBERT GOLDTHORPE LIFETIME ACHIEVEMENT AWARD
LOVE him or hate him, Mike 'Stevo' Stephenson is a huge presence in Rugby League.
Not only was he a World Cup winner with Great Britain in 1972, but he also led Dewsbury to Championship success in 1973.
Having emigrated to play in Australia with Penrith, he has been for the last 20 years a key figure in Sky's coverage of the game in the UK.  And he has also spent many years celebrating the history of the game after opening the Rugby League Heritage Centre at the George Hotel in Huddersfield, celebrating what he famously calls the Greatest Game of All.
Stevo, who was presented with the award by writer and broadcaster Ray French, was quick to applaud the impact the game had on his life from an early age.
"I was a bit of wayward lad in my youth, and I was given an opportunity in the game by the Shaw Cross boys club in Dewsbury," he said.
"Without their help I'd have gone down a wrong road and into a dark place rather than sunshine.  That spurred me on, not only in wanting to be a top player, but also to eventually give something back to the game, which hopefully I have done.
"It is always special to be recognised like this, and I'd like to thank everyone who's helped me get from being that little lad to where I am now."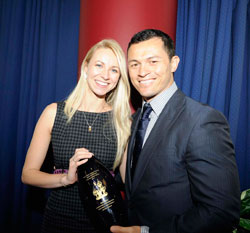 ROBBIE HUNTER-PAUL – ALBERT GOLDTHORPE PLAYING CAREER AWARD
WHEN Bradford Northern signed unknown Kiwi halfback Robbie Paul back in 1994, very few people probably envisaged that he would go on to become one of the most easily recognisable Rugby League personalities.
Now 17 years on, and following subsequent spells with Huddersfield Giants, Salford City Reds and Leigh Centurions, Paul, known as Hunter-Paul since his marriage to Natalie, is preparing to play his final games after announcing that 2011 would be his final season in action.
So it is fitting he was presented with the Player Career Award by former RFL and Leeds director Harry Jepson to recognise his achievements in the game.
"This is a wonderful award to get and it is just as special as the other awards I've won in my career," said Hunter-Paul "I'm not finished just yet, but it's quite frightening – the closer my last game is getting, the more real it's becoming.
"I've been playing Rugby League for 31 years, and it's been a massive part of my life, so it's strange to think that next year I won't be pulling on those boots.
"In my time in the game there has been such an amazing turnaround.  Rugby League has gone from being a semi-professional sport, into a professional sport.  At first I played with rugby players, then they became professional sports stars, who were paid to play rugby, and now the game has professional athletes.
"I look at that now and I'm glad I'm retiring."