First published in League Express, Monday 17th Sept 2012
Dureau delighted with top honour
By Lorraine Marsden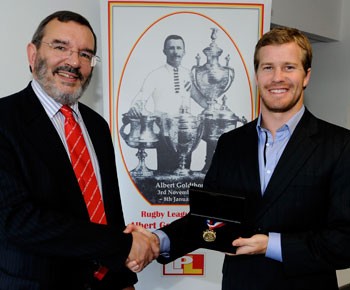 Albert Goldthorpe Medal winner Scott Dureau has spoken of his delight at following in the footsteps of Danny Brough, Michael Dobson, Sam Tomkins, Pat Richards and Rangi Chase in being named the best and fairest player in Super League.
Match reporters at League Express have been awarding points all season in every single match, and Dureau won at a canter this year, with 39 points, 12 clear of his nearest competitors.  For that he was presented with a solid gold medal and a £2,000 cash prize by League Express editor Martyn Sadler.
The award did not just mean a lot to Dureau.  The Catalan Dragons helped celebrate his success by sending a six-strong contingent to Langtree Park on Wednesday for the presentation luncheon.  Dureau was joined in St Helens by his coach Trent Robinson, Dragons Chairman Bernard Guasch and his wife, and chief executive Christophe Jouffret and his partner.
"It is really special to get this award," said Dureau.
"There are so many great players in this competition, and winning the Albert Goldthorpe Medal is something that, at the start of the season, I would never have dreamed of.  I never imagined it would be me standing here, so I am very, very honoured.
"As an Australian coming over to Super League I had heard the name Albert Goldthorpe, but then I heard it more and more in relation to this award and the players who have won it in the past.
"It is a really great award, and over the next 20 or 30 years there are going to be some fantastic players win this award, and I'm very honoured that my name will now be on that list of winners forever.
"My team-mates have been fantastic this year, and they have all helped me win this award and have contributed to me standing here today.
"I knew a month or so ago that I was in line to win the medal, and when found out for definite that I had secured it a couple of weeks ago I was delighted.
"It's the first time I've ever won an award like this, and I was lost for words.  It was also great to find out so many of us from the club were going to be able to come over for the ceremony and that I could collect the award in person."
The ceremony on Wednesday came just days after Dureau, along with his Dragons team mate Remi Casty, was named in the Super League Dream Team.
"It's been a great week for me, and it's very humbling to get these personal honours when there are so many great players in Super League," added Dureau.
"I think it shows just how far Rugby League in France has come that players at the club are starting to pick up personal accolades like this.
"We haven't got a lot of the big names of Super League, but we have got a lot of guys who are now making names for themselves, and that's a great reflection on how far the club has come in the last six years."
Watch the Awards Ceremony on video
A solid gold event
Martyn Sadler, the editor of Rugby League Express, pays tribute to the winners at the 2012 Albert Goldthorpe Medal ceremony.
Every year we invite 100 guests to the Albert Goldthorpe Medal ceremony, which this year was held at the Langtree Park Stadium last Wednesday, at the kind invitation of St Helens Chairman Eamonn McManus. It was a great event, and this year we had several awards to give out.
First of all, we had created a new award, the Albert Goldthorpe Pen, which was presented to Rugby League writer Dave Hadfield by my colleague John Drake, the editor of Rugby League World magazine.
Then we had the Albert Goldthorpe Lifetime Achievement Award, which was presented to David Oxley, who led the RFL from 1972 to
1992.  David treated the audience to a fund of amusing stories from his time in charge of the game.
That was followed by the Playing Career award, to celebrate the career of a leading player in the game.  This year it was presented to Saints legend Paul Sculthorpe by his fellow Saints legend Ray French.
RFL President Jim Hartley presented the Albert Goldthorpe Team award to Wigan Warriors coach Shaun Wane, shortly before Shaun had to rush off to Red Hall for Michael McIlorum's appeal against his three-match suspension.
Then it was Keith Senior's turn to present the Albert Goldthorpe Rookie of the Year Medal to Bradford's John Bateman.
John, who is still aged only 18, won the medal from a very strong field of 12 shortlisted candidates, any of whom would have been a worthy winner.
We gave it John after much agonising.  In a difficult season he has shown tremendous promise, while other players have confirmed the tremendous impression he has made, his extraordinary strength for such a young player, and his undoubted leadership qualities.
Then finally it was my turn to give the Albert Goldthorpe Medal itself to Scott Dureau, whose performances throughout the regular season ensured that he would finish with a tidy lead in the final table.
Scott proved himself to be a very eloquent young bloke, and it was great to see so many people from the Catalan club coming to St Helens to support him, including his Chairman Bernard Guasch, the club's chief executive Christophe Jouffret and coach Trent Robinson.
Their presence to support their player turned a great event into a superb one.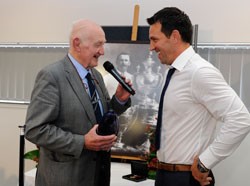 Rookie Bateman shocked by honour
By Lorraine Marsden
It may have been a season to forget for the Bradford Bulls off the field, but one of their rising stars was at Langtree Park on Wednesday to pick up a very special award for his performances on it.
John Bateman beat off competition from players such as Warrington's Chris Hill, Leeds' Stevie Ward and Greg Eden of Huddersfield to be named Albert Goldthorpe Rookie of the Year and take home a solid silver medal and a £500 cash prize.
Leeds Rhinos legend Keith Senior was on hand to present Bateman with his prize, and he joked about following his example and, if he needed some cash, selling the medal on eBay.
The 18 year-old looked visibly shocked when he was announced as the winner in front of nearly 100 specially invited guests, and he was quick to thank his Bulls team-mates for their support of him as he broke into the team.
"I knew I was a nominee but couldn't believe it when Keith announced my name," Bateman said shortly after the award was presented.
"Winning a medal like this in my first season in Super League is a really big achievement for me, and something I'm very proud of.
"Sam Tomkins has won this Rookie award in the past, and when you see what he has gone on to achieve and how good a player he now is, it really shows what you can achieve if you believe in yourself.
"When the shortlist of nominees was first announced I was on the Academy tour in Australia, so it was a nice surprise to be told I was on that list when I got back.  But I knew I couldn't let it affect my game.  I just had to keep concentrating on playing my rugby and doing what I had been doing all season.  I couldn't change anything just because I'd been nominated for an award.  I just put my all in every week."
Bateman won the award despite missing the last two games of the season after picking up a shoulder injury in the 34-12 win at Huddersfield in round 25.  He remains an in-demand player, but the youngster, who captained the England Academy in Australia, knows where he would prefer to be playing in 2013.
"My shoulder is getting better," he added.
"I had hoped to be back for the Catalan game in the final round, but it still didn't feel quite right.
"I'm just going to give it a bit of time now to rest up and come back bigger and better next year.
"I love Bradford and the club.  All my family are all here, and I've never met a bunch of blokes I enjoy being with as much as my team-mates at the Bulls.
"I've still got a year left on my contract at the club, and my first choice would always be to remain a Bradford Bulls player."