WELCOME
to NRL Grand Final 2012
Tempus fugit. It seems like only yesterday that we were starting with our Round 1 tipping competition and now here we are with our blockbusting Grand Final occasion just a few days away.
Step forward
Bulldogs
... the minor premiers
Rumble in the
Storm
... the team who were runners up in the minor premiership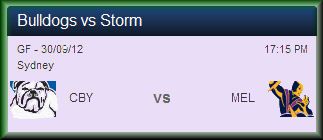 This promises to be a spectacular collision of top class fired up players - not to mention top class coaches Des Hasler and Craig Bellamy.
It's all to play for!

Everyone is welcome to join in this competition. Newcomers are welcome even at this late stage. This season has once more been a very friendly but fiercely fought affair. Thank you to everyone who has taken part. Your friendship and company has been very welcome.
As it is a special event this coming Sunday here's this week's special Grand Final Competition Questions to add to your enjoyment of the great day.
For convenience please feel free to copy and paste the six Questions below, placing your answers in the appropriate place
1. Name the WINNING TEAM ... Bulldogs or Storm
2. Name the first PLAYER to score
3. Predict the HALF TIME SCORE (
Bulldogs X - X Storm)
4. Predict the FULL TIME SCORE (
Bulldogs X - X Storm
)
5. Tot up the two teams predicted scores and give us your predicted match POINTS TOTAL
6. Poll question this week: How many tries will be scored altogether by the two teams in the game?
- answer in the poll above but also in your posting - so we can put your name to your vote.
So here's to a great competition, and may the best tipster and team win!
Good Luck
everyone - there'll be animated awards as usual.
Cheers,
Graham
Ce message a été modifié par G Las D - 23 septembre 2012 - 09:09 .