After the success of the Dayan-Larrat project to Lens Saturday has this made the Super XIII project more likely? For many over here this partnership has won some credibility which may open the doors for this projected new elite competition kicking off in the summer of 2014. This new franchise based set up intends to bring together thirteen clubs including 4/5 operating out of major soccer clubs outside the traditional heartlands of the south.
In yesterdays national sports daily 'L'Equipe' an article quotes a salary cap of £900,000 for the participating clubs. Today probably only Pia, Carcassonne & Toulouse could get anywhere meet this figure under present arrangements. The key I'd have though must be more the link Dayan-Bietry. The latter a head honcho at Bein Sport Television who have just launched this year three specialised sports channels & funded by Qatari money. The channel already covers both NRL & SL including the Dragons. Bietry has already said he's not interested in covering the French Elite as it presently is but is on record as saying he wants to make "something of" their rugby league content. Dayan-Bietry are associates & know each other from the PSG RL days.
Bein Sport have invested hugely in soccer, buying a big stake in PSG & now competing with Canal plus for Champions League coverage. May be they see this new Super XIII as a summer filler, may be under floodlights midweek like our own Championship on Premier Sport.
After the loss of Montpellier this year & earlier at St Gaudens & Marseille the Elite 1 today hasn't got much to lose. Five clubs from one region, two from Mid Pyrenee & one each from Provence & Aquitaine is the present sum total. Bietry's the only man who will be able to give it any chance of working I think.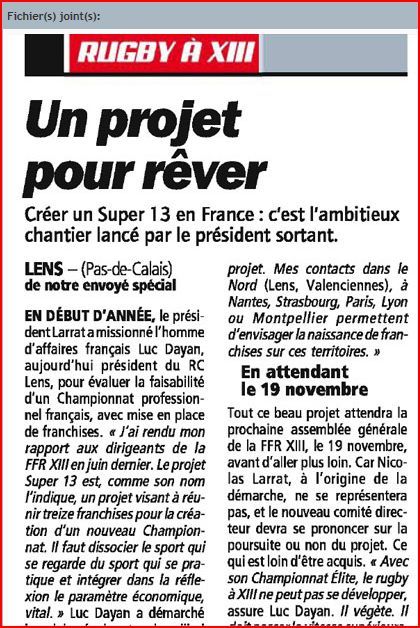 Edited by audois, 25 October 2012 - 10:55 AM.