League: Wigan lined up to play Warriors in pre-season
5:30 AM Sunday Dec 8, 2013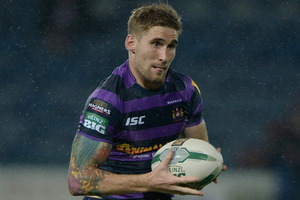 Sam Tomkins first game for the (New Zealand) Warriors could be against the (Wigan) Warriors. Photo / Getty Images
The Warriors look set to play a match against British Super League champions Wigan in February.
According to sources in England, the British team will come to this country en-route to Australia, ahead of their World Club Challenge match in Sydney on February 22.
Wigan had been seeking an additional game in the Southern Hemisphere ahead of the game against the Roosters, and had even explored the challenging prospect of a fixture in Port Moresby against Papua New Guinea. However, it seems they have settled on a game against the Auckland club, further developing the relationship established last year.
The match raises the intriguing possibility that Sam Tomkins' first match for the New Zealand Warriors could be against the Wigan Warriors.
Thomas Leuluai could also face his former team-mates, if he has recovered from the injury he picked up at the World Cup.
Details are still to be finalised but if the match goes ahead, it is likely to be played at Waikato Stadium in mid-February. It would continue a growing tradition of league in Hamilton. The stadium hosted a trial match last year against Penrith and the Bulldogs will stage a 'home' match there during the NRL season.
If the game gets the green light, it will also mean a packed pre-season schedule for the Warriors, with games already locked in against the Titans on February 9 at North Harbour Stadium and the Broncos on February 23 in Dunedin, as well as the Auckland League Nines on the weekend of February 15 and 16.
The last time the Warriors faced British club opposition was in 1997, during Super League's World Club Challenge series. They played three matches in England, before games against Bradford, St Helens, Warrington and Bradford (quarter-final) in Auckland and Christchurch. They won all seven matches before losing to Brisbane in the semifinals.
Meanwhile, Tomkins arrives in Auckland tomorrow morning for a week-long promotional visit. As well as being presented to sponsors, fans and media, he will also meet his new team-mates for the first time and visit Warriors' headquarters. Among other items on his agenda are a Sky Tower jump and a fishing trip on the Hauraki Gulf, as well as three separate Christmas functions.
Tomkins, who will be house hunting during his stay, is expected to attend the league versus rugby themed Fight for Life boxing event on Saturday.