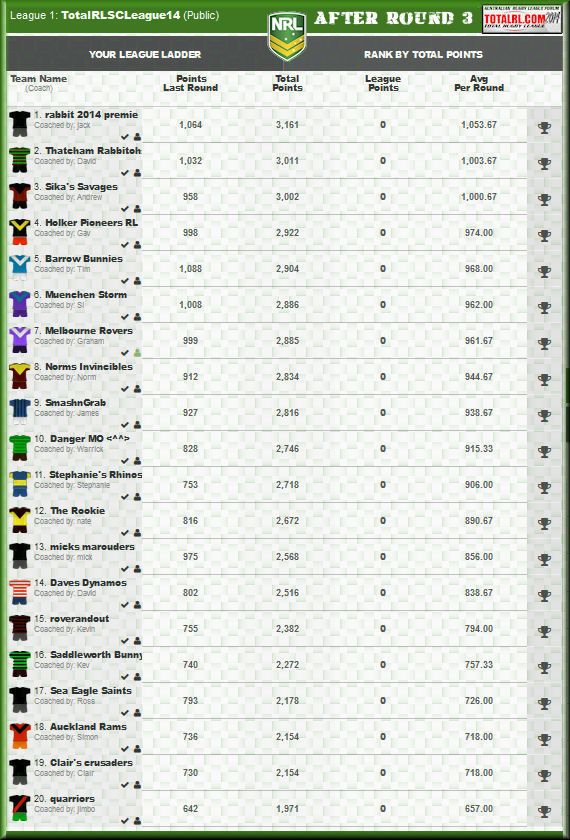 It's still tough going this early in the season. I get the feeling that more of us are finding our feet somewhat though now.
Our top scorer this week with a very creditable1088 was Tim and his Barrow Bunnies, well done mate. Close on his heels were Jack (Rabbit 2014 Premiers 1064pts), David (Thatcham Rabbitohs 1032pts) and Si (Muenchen Storm 1008pts)
Just missing out from this exclusive club was me and my Melbourne Rovers (999pts) and Gav and his Holker Pioneers RL (998pts)
At this early stage we have just three Super Coaches averaging over 1000 points a round: Jack, David and Andrew (Sika's Revenge)
Congratulations.
Some decent scores throughout the ladder. Well done Mick's Marauders and your 975 points.
The round saw a few more injuries including the serious one to Alex McKinnon. My thoughts and best wishes go to him , his family and friends.
There were other injuries which might affect your team selection too.
Good luck in Round 4 everyone.
Now who's the best captain for the round going to be, answer me that one?
Edited by G Las D, 25 March 2014 - 08:04 PM.