Just to say that Jarrod who was at Panthers for a couple of years before flying way up north has now joined Featherstone Rovers on loan from Wakefield Wildcats where he hasn't held his place under the new coach there.
Prior to that he had signed a new two year contract with Wakefield in February this year. Before Wakefield he was with Bradford Bulls.
An approximation of how he'll look in a Rovers home jersey with apologies to Jarrod: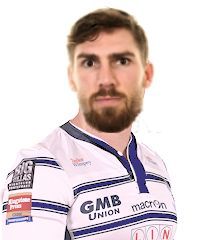 To see him wearing and playing in the Rovers kit you'll need to be there for the game on Sunday in Fev.
Edited by G Las D, 25 June 2014 - 05:04 PM.