************* ROUND 17 *************
------------- AWARDS -------------
**************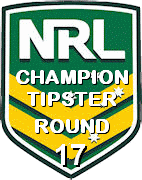 **************



*

*
*




Congratulations to Marv Woodburn our top scorer this week.
Our group strike rate was 25/65 or 38% purdy poor

The Round 18 competition has been posted.
There's also the State of Origin 3 tipping competition to challenge yourself with this week (Wednesday)

The Tipsters' Ladder has been posted in a pinned thread
at the top of our forum with the R16 and R17 results of our efforts.

Good Luck in Round 18 everyone - we're due for a good one!