So Carcassonne are out of the Cup after the defeat at Workington. They've never got passed the first round after the loss at Dewsbury a few years back. But both times have given a good account of them selves. Offerdahl who played prop yesterday is Australian but hopeful of being in the USA WC squad while the other prop Pau could feature possibily for the Cook Islands. After Sundays loss and earlier over here to Limoux in the Lord Derby Coupe have only the league play offs to contend with now. Quarter final next weekend against local rivals Lezignan at Stade Moulin should be promising. FCL have had for them a very average season just like the ASC. The Corbieres side secured her 3rd place yesterday with a big win at home to Villeneuve (56-22) who hadn't much to play for finishing down in 7th spot. Other QF sees Avignon host Toulouse. Winners of both these ties to Stade des Minimes in Toulouse for the semis against the Catalans of Pia & St Esteve.
Limoux have already completed their regular season and have the difficult task now of navigating a month or more of no competition ahead of their Lord Derby Coupe Final at Carcassonne against Avignon. This passed week they have thanked their coaches by not retaining them next year instead of going for a tandem of former London Broncos prop Temata and the Aussie Taylor as his conditioner. Interestingly though they are realigning their operation with these player-coach appointments and intend to use savings to get their junior structure -development sorted out. The Grizzlies and Lezignan have had real problems this year at U21 level both on occasions failing to put out sides.
There's talk around Carcassonne that they intend to scale back on their overseas element from next year to may be as few as four players. If all the sides looked at that model or fewer it might just be possible to win back a few more sides to the competition and prevent the chaotic situation they had this year with far too many blank weekends. The level could well drop but as a friend said to me it would be more a true level of where the French game presently sits.
Further down our lower league set ups continue to show up. Villegailhenc in N1 have reached the national quarter finals stage and turned over highly fancied Realmont at home yesterday 29-18 and have to defend that eleven point cushion up in the Tarn next week in the return to secure a semi final spot. At Federal level the regional finals are under way with all four semi finalists coming from the Aude. Saturday saw Villeneuve Minervoir losing 22-8 at St Laurent de la Cabrerisse and yesterday the favourites Preixan turning over Val de Dagne 48-12 before a reported crowd of near 500 up the Aude valley.
Returning back to the Canaris. I doubt whether I've paid to watch them this year as most home games have been sponsored with lots of freebies dished out. They do seem to have a decent commercial operation and the town council ever supportive. The other big fund raiser though is their annual Giant Loto which took place last week in the main municipal hall (the Dome) which attracted 2,000 players.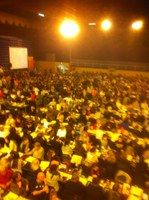 Edited by audois, 08 April 2013 - 02:06 PM.