WELCOME TO NRL Round 7
.
There is a one week gap between R6 and R7 due to the international fixture between Australia and New Zealand (Friday 19th April) and the Country v City game (Sunday 21st April)
The kick off to this round is THURSDAY 25th April.

Everyone reading this is welcome to enter this weekly competition which runs throughout the season.
Whether you've taken part before or you fancy having a go this week for the first time you're guaranteed a warm welcome.
Entries are allowed each week up until the kick off of the first game in the round
NB Remember this round's first game is on THURSDAY 25th April !!!

ROUND 7 QUESTIONS:

*Poll Competition:
Round 6 produced some low scoring games. Let's look towards the opposite results this week:
Which R7 game will produce the biggest total of points when both teams final scores are added together?
- enter in the poll itself at the top and put your answer in your posting.
The poll is anonymous so we can't give you credit unless it is in your predictions post.

Now the main event of the week:

*Match tipping Competition:
Name the 8 (that's EIGHT) winning teams in NRL Round 7 2013


*Points Competition
How many points will be scored by all the teams added together in R7?
This is a competition in itself and will act as a tie breaker for the match tipping comp if necessary. This is used as the decider when necessary so do give it a go.


*HOME Win Competition:
How many HOME wins will there be in NRL R7?

In rounds where the game is on the road and played at a neutral venue, the team named first in the fixture will be regarded as the home team for the purposes of this competition.

Fixtures: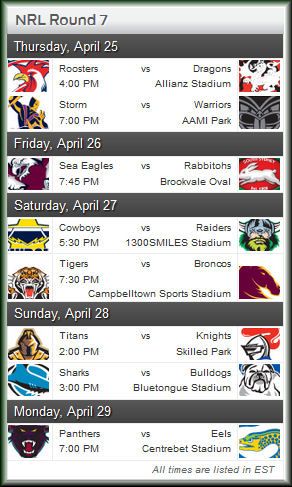 Animated awards will be given for the winner(s) of each competition question.
Match tipping scores will be added together as the season progresses to produce a Tipsters' Ladder which is pinned to the top of the forum topic list page
The best of luck to everyone.
Enjoy your Rugby League!
Edited by G Las D, 15 April 2013 - 09:21 AM.