WELCOME
to NRL Finals Week 1

Everyone is welcome whether you've entered before or not.
There's just four games to tip this weekend.
There's no Monday game.

FINALS WEEK 1 QUESTIONS:
*Poll Competition:
How many teams in Finals Week 1 will score 25 or more points??

...And now the main event of the week

*Match Tipping Competition
Name the 4 (that's FOUR) winning teams in NRL Finals Week 1 2013

*Points Competition
How many points will be scored by all the teams added together in Week 1 of the Finals?
This is a competition in itself and will act as a tie breaker for the match tipping comp if necessary. This is used as the decider when necessary so do give it a go.

There's no Home/Away win comp in the Finals Series

Fixtures: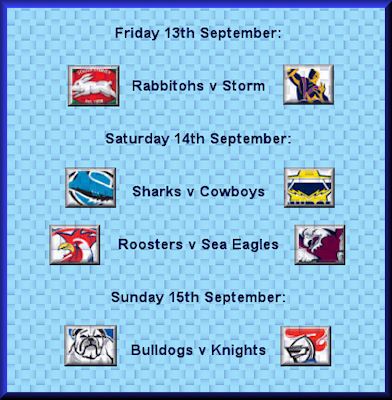 Animated awards will be given for the winner(s) of each competition question. If you are new, see previous competition threads to get the idea of them.
Match tipping scores are added together.

See our Tipsters' Ladder pinned to the top of the forum topic list page.
New entrants are always welcome: entering the comp is a great way to get involved in every game of the NRL this season.

Good luck everyone
Enjoy your Rugby League!
Edited by G Las D, 11 September 2013 - 11:52 AM.