This article originally appeared in issue 398 of Rugby League World magazine. Issue 399 is currently in production and will be on sale from June 6. Click here to find out more about the magazine and to browse back issues click this link…
Once an endangered species, British outside backs are now thriving in Super League. Rugby League World assesses the cream of the Leeds Rhinos crop against their top-flight rivals…
These are heady days indeed for homegrown outside backs. It's not that long ago that the national side was forced to play any number of players out of position to fill the three-quarter line, now Steve McNamara has a wealth of options. No club emphasises that point more than Leeds Rhinos.
In Zak Hardaker, Ryan Hall, Ben Jones-Bishop, Kallum Watkins and Tom Briscoe, the Rhinos have five English backs at the peak of their powers. There is an odd-man-out at Headingley in Aussie centre Joel Moon – and more of him later – but this is a world away from the 2003 Grand Final, when winners Bradford Bulls fielded an entirely overseas-born three-quarter line.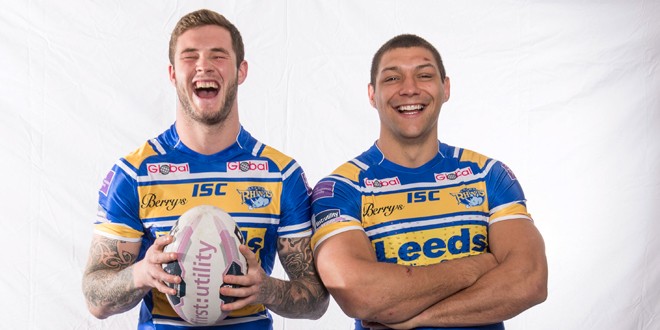 It was during that era that both England and Great Britain struggled to fill their backline with specialist players. Between 2000 and 2003, the following were named out of position on the wing for the national side – Chev Walker, Paul Wellens, Leon Pryce, Paul Johnson, Keith Senior, Lee Gilmour and Richard Horne. In addition, fullbacks Wellens and Kris Radlinski both played centre at some point.
Now, each of the 13 English Super League clubs has the ability to field an all-British backline. There has already been plenty of public debate about whose is the most potent. Saints winger Tom Makinson lauded the ability of the Leeds backline before pressing a case for his own. That didn't escape the attention of the fiercely proud Shaun Wane ahead of the Good Friday derby, and he was quick to champion his own Wigan players' credentials.
Right across the competition there are young British players emerging in positions that were often seen as problem spots for the national side. Huddersfield Giants, last year's League Leaders, don't have a single overseas outside back in their entire squad.
For Rhinos winger Hall, long labelled the 'World's Best Winger', that can only be a positive. "That's really good for the sport, and is how Super League has been wanting to develop for quite a while now," he says.
"The salary cap was brought in to try and provide a more even competition, but it's also allowed more opportunities for younger kids coming through. That's all that it takes sometimes – an opportunity and a chance, and that's what happened for me. I got a bit of a chance after thinking I'd missed the boat a couple of times. When I got offered professional terms I couldn't say no to it."
Healthy competition
As the eldest of the Rhinos' English quintet, and the one with the most international experience, Hall could be seen as something of a figurehead among the group. You would barely know it during the Rugby League World photoshoot however, with Hall the subject of much of the light-hearted abuse between a group of players that clearly get on as mates.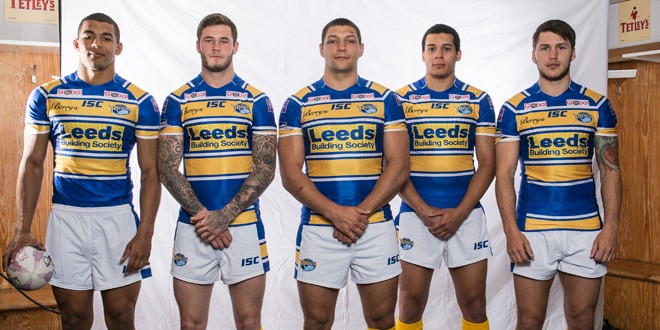 Asked to tilt his chin forward by the photographer for one particular shot, Hall is quickly heckled by Hardaker, the youngest of the group at 22. "Not that chin, the other one." It's a theme that continues between the pair, based around Hall's discovery that he has the biggest muscle mass in the entire Leeds squad following a recent round of testing.
Rugby League World asks who the quickest of the five is. Hall is one of a number to claim the title. "Quicker than who?" Hardaker retorts, laughing. "All of us are quicker than you." It's a race that would certainly be worth seeing.
The exchanges continue, covering everything from different diets to fashion choices as the RLW photographer snaps away. But on the field it's been serious business all season, with the Challenge Cup tie against St Helens five days after the photoshoot a case in point.
The British backs are among the Rhinos' key performers as they end Saints' Wembley dreams with a 32-12 televised win. Hardaker puts them on the front foot with two well-taken first half tries, and with the game delicately poised at 20-12 with seven minutes remaining, it is a brilliant break from Watkins that creates the game breaking try for Danny McGuire.
But it is left winger Hall that shines the brightest, earning the official man of the match award and glowing praise in League Express from reporter Phil Caplan. "Rarely has a winger put in a more complete performance than Ryan Hall's," Caplan wrote. "Massive meterage gain – most of them the hardest – some key spot tackles, and a terrific try assist."
The Opta stats give further insight into Hall's performance. Six tackles with no misses – more than double any other winger on the field – with 129 metres from 15 carries. Only Hardaker, with 180 from 24, makes more among the backs involved.
Five positions, six stars
The St Helens win also raises another pertinent issue for the Rhinos backline. With Australian Moon a near permanent fixture at left centre, that leaves five other players for four positions.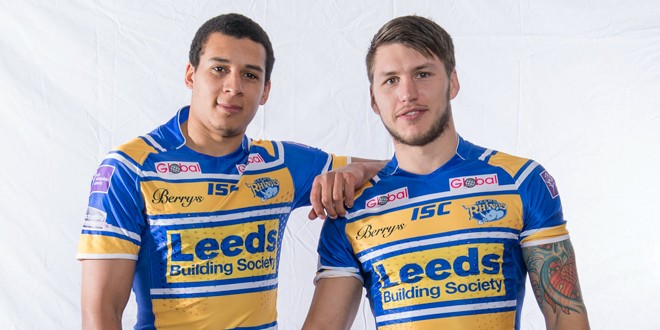 Against Saints, Jones-Bishop is the man to miss out in favour of Briscoe. It's an issue that Leeds coach Brian McDermott was forced to address publicly earlier in the season, with Jones-Bishop extensively linked with a loan switch to Wakefield.
McDermott said after the win over Widnes in March, in which Jones-Bishop scored twice having earned a recall, that he had no intention at the time to send the England Knights international out on loan.
Hall insists that it's a situation that all the players are comfortable with.
"There is one player too many, and we have a system there that if it's for the best of the side, one week you might not be playing," he explains.
"We realise that it's for the benefit of the side, and not for individual accolades, although they will come along as well if you play well. As long as the team's winning and everyone's playing their part in that, that's the most important thing."
It's an enviable position to be in which, in fairness, is replicated at certain other Super League clubs at present. But another thing that marks the Rhinos apart from most is the distinct contrast in styles between each of their options.
Hall earned his tag as WBW with a series of remarkable corner flag finishes that are now being replicated on both sides of the world, with St Helens winger Makinson a prime example in Super League this season. Added to that, his physical presence means he plays almost like an extra forward when Leeds are coming out of their own half.
Briscoe has forged a reputation for long distance raids, both in his time at Hull FC, and during his fledgling Rhinos career to date. Against Salford on Easter Monday he twice instigated length-of-the-field tries – one his own – from kick returns. He remains a threat from anywhere on the field.
The same can be said of Jones-Bishop, whose genuine pace has been evident since he first thrived under McDermott while on loan at Harlequins in 2010. Like Hall, he also has that instinctive wingers finishing ability by the corner flag.
Hardaker possesses strength that belies a slighter frame than most of his counterparts, giving him the ability to throw defenders off. A product of the Featherstone Lions and Rovers clubs, his versatility has also seen him play at centre and wing for the Rhinos. But he now appears most at home at fullback, with one media observer noting he become a threat to Sam Tomkins' England jersey later this year, such has been his form of late.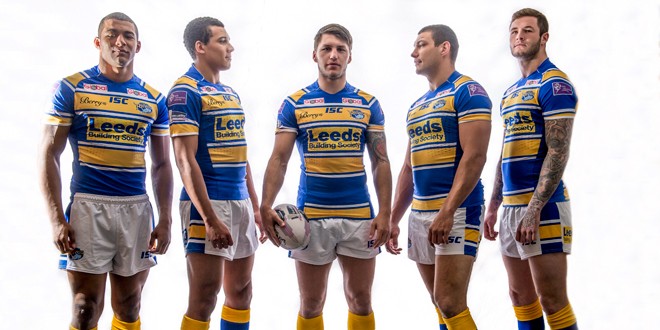 Saintly challenge
That just leaves Watkins, one of the success stories of England's World Cup campaign and arguably the most naturally gifted of the whole quintet with ball in hand. "Kallum Watkins, quite simply, is the best centre we have produced since Paul Newlove and Gary Connolly," according to Garry Schofield, a man who should know having sparkled in that position for his country himself. Praise indeed.
That marked contrast in styles between the five players is a definite strength according to Hall.
"They all bring something different, they all have their own style. We've recruited Tom Briscoe from Hull this year, Zak came in from Featherstone a couple of years ago and the other two have come up through our system. Tom has added another different dimension to our play, and I think that's one of our strengths really.
"When teams are looking at our backline and how to play against us, everybody is different. Every time a tackle is being made, they have to tackle someone with a different style, and I think that makes it harder for teams."
Hall is less inclined to become involved in the debate over which club has the most potent backline at present. The issue was aired by Makinson – arguably the form winger in the competition to date – earlier this year.
"They (Leeds) definitely set the benchmark," Makinson said. "They're tremendous players and that's what you've got to aspire to, but I think we're doing really well this year. They are great players in their own respect but Swifty (Adam Swift), Jonny (Lomax) and I have something a bit different. We're all really skilled and quick, and hopefully we can challenge them to be the best backline in Super League."
While Wane was not backwards in coming forward on the issue the following week on Sky's "Boots 'N All", Hall is more cautious when asked if he looks at other backlines and compares.
"Only when we're playing against them and do our preview on opposition teams," he responds. "We're not going to be drawn into one of these our side is better than your side' because at the end of the day, who cares? It's what happens out on the field on any given day. If we can produce our best on the pitch then nothing that anyone says matters."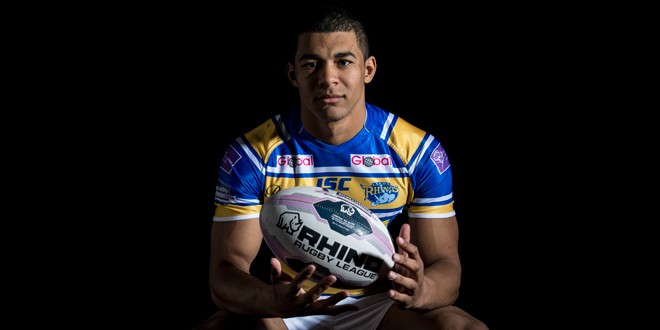 Long-term investment
Certainly in the Challenge Cup tie it was the Rhinos backline that emerged victorious, with the otherwise prolific Makinson shackled better than he has been all season playing opposite Hall.
The following week another fascinating battle unfolded as Wigan arrived at Headingley with their wealth of talented British outside backs. Teenage winger Joe Burgess has been arguably the find of the season to date, following in the footsteps of Sam Tomkins and Josh Charnley as a homegrown Warriors back that has thrived in Super League.
It's certainly a marked difference from the early days of the summer era, when three-quarter lines were often packed with overseas imports and the national side suffered as a result. When McNamara comes to pick his Four Nations squad later this year, it's doubtful that a national coach will have had more options out wide in the modern era. Let's not forget that Jack Reed – a model of consistency for Brisbane Broncos in the NRL – was ruled out of last year's World Cup through injury and is another name to add to the list.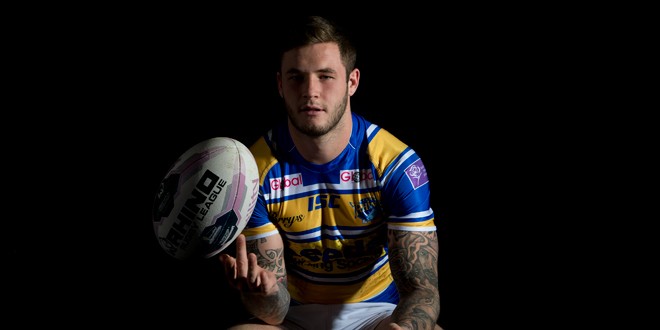 Back home, Hall is a shining example of the improved development systems in this country over the last two decades. He was just nine when Super League kicked off in 1996, but worked his way through the Rhinos programme that has yielded so many other homegrown talents in every position.
"When I first came onto the scene I was there to do one job, and that was to play for my club at first. I just wanted to do the best I could. I went through the development stage and here at Leeds there is a really good behind-the-scenes crew who are very good at getting kids ready for Super League.
"I went through that process and have ended up where I am today. It's nice to be regarded as a quality outside back, and first and foremost we are very proud of what we have here at Leeds."
Odd man out
Australian Joel Moon bucks the trend at Headingley, but he is certainly not an outsider among the British backs.
Moon has made a significant impact since switching from Salford for the start of the 2013 season, developing into one of Super League's most consistent centres.
"He's been a quality signing for the club," Ryan Hall says.
"We knew when we signed him what we were getting, and it's been really nice to play outside him for the majority of the time.
"I've got to know his game quite well, and he has some outstanding features to his game. I've played outside various people with different styles and Joel's certainly got his own. It's been good to learn from him."