In 2011, Rugby League World interviewed Phil Joseph in his Huddersfield bar. The transformation since has been remarkable…
You'd have been hard pushed to picture Phil Joseph scattering Super League defenders if you rewound three years.
Almost 20 stones, the now Widnes Vikings wrecking ball was working all hours behind his own bar in Huddersfield, carrying out the roles of barman, bouncer and even toilet attendant at times.
He was still playing part-time Rugby League for Swinton Lions, and the talent that had been evident since he was a precocious teenager with the Giants was still regularly apparent in the Championship.
But as he now admits, Joseph's time in the top flight looked to have passed.
Fast-forward three years, and after an intensive fitness regime, a failed trial and some frustration at Bradford, and Joseph's career has been transformed. He has been one of the most destructive forwards in Super League during the Vikings' impressive start to the campaign, so much so that his own targets now include pulling on an England shirt at the end of the year.
"Every player is aspiring to do something in their own right, and my biggest one is to play for England – that's my goal," Joseph told Rugby League World.
"I have had to go backwards, and mum says that I've had to do things the hard way. But that's the way it had to be to get where I wanted to."
Doing it hard is an understatement in many ways. Joseph's initial Super League dream ended when he couldn't accept the terms offered by Huddersfield because they weren't enough to support the daughter, Tanaya, who he had at 17 – despite having played 13 top flight games in his debut campaign. Instead he had to turn to part-time League to support his family, and began an off-field career path that was far from ideal.
In running pubs and bars in his hometown, Joseph would not only be working all hours of the day, he would often find himself in situations most professional sportsman actively avoid.
"It was ridiculous – it took over my life," Joseph admitted.
"I had to socialise when I was working, so I'd be intoxicated when I shouldn't be before games. In some cases I'd win the man of the match at weekend – I don't know how I did it.
"The main problem with it was dealing with idiots. If there was trouble in the bar I'd need to sort it out – you could have people trying to punch you from the sides, or be breaking up a fight. Girls would be swearing at you for not letting them in or not giving them the right drink.
"To be honest I was sick of it – I felt like I was always getting knocked back so what's the point?"
"And you had to take on different roles – I'd be a bouncer one minute, barman the next or even a toilet attendant. My diet was disgusting – I pretty much lived off McDonald's and KFC, and I just didn't have the time to be professional and get hydration in.
"I was too busy thinking about making money to support my daughter. Playing and working at the bar, it was tough, mentally, to get up for rugby. I had other things I needed to put my energy into to make sure I was providing for my children. I was very young when I had my first daughter, and my first relationship, and that meant I wasn't able to go full tilt at rugby at a young age.
"Sometimes I would get to the bar at 2pm – sometimes it'd be 10am depending on what needed doing – and I might not finish until eight or nine the following morning. Swinton were always very understanding – I owe Swinton Lions a lot. Every time I was there I seemed to enjoy it with the likes of Watto (Ian Watson) and Marlon Billy."
Giant opportunity
As well as his two spells with Swinton, Joseph also played for Oldham, Halifax and Hull KR at the lower levels. It was during his second stint with the Lions that long-term friend Kevin Brown – who he had played alongside in junior representative teams – pestered him enough to get into the kind of shape that earned him a second trial with the Giants.
"I started speaking to Kev a lot and he'd say to me, 'What are you doing working in bars, wasting your talent away?' He kept texting me and texting me and I started to train with him a bit. We'd been the best of friends away from rugby since going on an under-15s camp together for England. He was from St Helens and I was from Huddersfield, and we went on a GB under-16s tour together and stayed friends. He was always telling me he could never understand why I wasn't higher up in the game.
"My main focus at that time was on making money for my family and for my business. That focused changed when I had a few issues off the field, and my parents sat me down and told me I could end up in real trouble if I continued working in the bars.
"They said that even though I was earning a lot of money through the business, I was wasting my talent in rugby, and that they'd help me financially if that's what it needed to have a good go of it. Kev kept pushing me to come and have a trial at Huddersfield, and told Nathan Brown about me. But when I went to see him I was 125kgs (just under 20 stones), and he told me to get down below 110kg."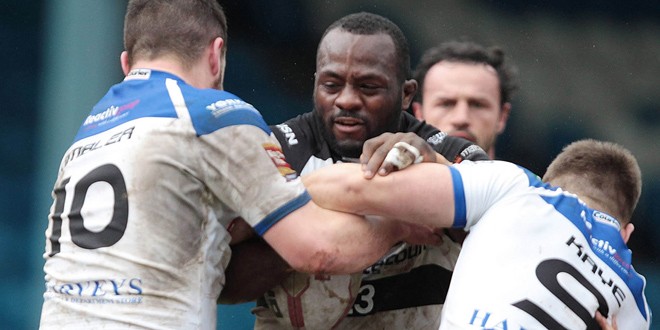 Joseph started early morning training sessions with yet another Brown – Giants conditioner Greg – and after achieving his goal, went back to the then Huddersfield coach.
"Nathan said he was very happy with how I was looking and my body shape, and went into the board and said he wanted to sign me. But the feedback from the board was that there was no chance they wanted to sign Phil Joseph after a few things had been in the paper about the bar – they were adamant.
"I was upset and annoyed at the same time, because I'd put all my eggs in that basket and really wanted to do it. Kev even took it to the extreme of going to meet Ken Davy, but there were other board members who weren't really sure about my background in bars and nightclubs."
What Nathan Brown could do was recommend Joseph to his friend and Bradford coach Mick Potter, and after another trial spell there, he did enough to warrant a one-year contract and, finally, his second shot at Super League. But things didn't work how like he had hoped.
"I didn't really get an opportunity – I was there to fill the numbers really," he explained.
"In my first game I got man of the match in a friendly against Dewsbury, and I played in the other friendlies and did pretty well. I thought I was going to get a fair crack of the whip. But then I got pushed into the background, and would only play 20 minutes here and there every three weeks.
"I was getting a bit stale again, and after the season had finished I was a bit fed up with rugby – I thought it was something I'd tried, hadn't worked, and I was ready to start studying and looking at other things for my future."
Vikings charge
Then one final Super League door opened.
"Denis Betts rang me, said that he'd seen me play a couple of times and that I looked like I was dynamic with plenty to offer. He asked me if I'd consider a trial.
"To be honest I was sick of it – I felt like I was always getting knocked back so what's the point? But I sat down again with my mum and dad, and my best mate Mark, and they said I'd come too far to throw one more opportunity away. They really talked me around. I spoke to Kev again as well, and it's the best thing I've ever done, it's been a fantastic move.
"My diet was disgusting – I pretty much lived off McDonald's and KFC. I just didn't have the time to be professional"
"For the first three or four months I was waking up at 5.30am to travel over to Widnes, training all day and coming back. Denis kept saying he was really impressed with me, but knew it was costing me a lot of money with no contract and asked me to bear with him.
"He said the way I was going I had a bright future at the club, and straight away I trusted Denis. Even before I'd trained with the team he'd sat me down and I'd talked to him for a good couple of hours. He put his cards on the table, said he knew what I could do, and that if I worked hard then he'd reward me in every way he could. He's stuck to his word and looked after me.
"I got a lot of opportunities coming off the bench, and Denis told me to keep working hard to build my engine, and that the sky was the limit for me. I've worked heavily with Kev as well, doing video analysis work on how I could improve my game.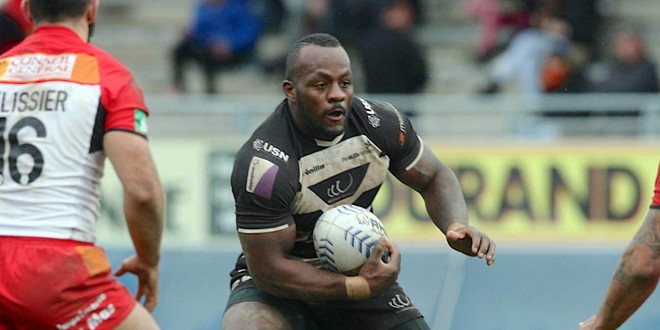 "Once I got my contract I decided to make the move over to Widnes, and that's made things a lot easier. I can concentrate now on training and doing the extras, and fully focus on rugby."
It's a far cry from the days working until the early hours at the bar. Now settled in the Widnes area, and with two more daughters Tyra and Tahlia, Joseph is flourishing with the Vikings and has developed into one of the competition's most effective forwards.
"My form is better than ever, but it's nowhere near where I want to be," he added, his new focused approach evident.
"I've still got a long way to go because my goal this year is to play for England.
"I've worked from the bottom and want to get all the way to the top, and be proud to pull that England shirt on It's a big aim and I can only do it if I keep on improving."