Scoreboard: Rugby League Tables: Sunday August 3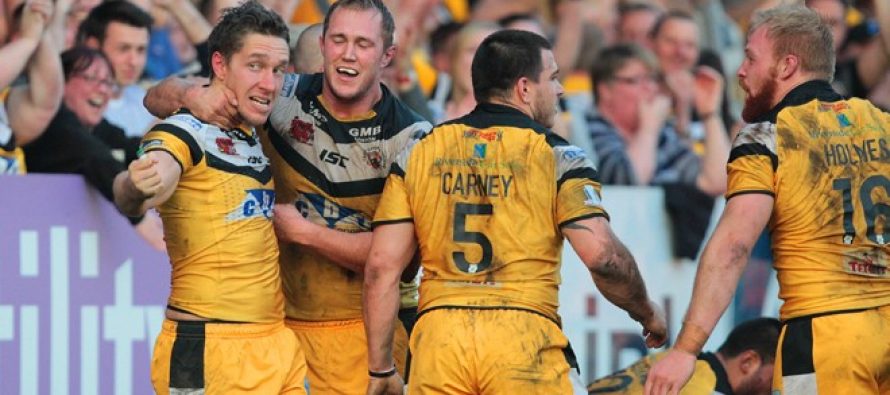 Don't miss a beat with today's Rugby League results in the Super League, Championship and Championship One. TotalRL.com's scoreboard has full, comprehensive results for all the action from today's games. Here are the official tables for all three divisions.
And don't forget that full reports of EVERY team that played today is in tomorrow's edition of League Express – which is available online TONIGHT, or in paper format tomorrow, as per usual.
First Utility Super League
St Helens                                        P23 W17 D0 L6             Points:34
Wigan Warriors                            P23 W16 D0 L7             Points:32
Leeds Rhinos                                 P23 W15 D2 L6             Points:32
Castleford Tigers                          P23 W15 D2 L6             Points:32
Warrington Wolves                      P23 W15 D0 L8             Points:30
Huddersfield Giants                    P23 W14 D2 L7              Points:30
Catalan Dragons                           P23 W11 D1 L11             Points:23
Widnes Vikings                            P23 W11 D1 L11             Points:23
————————————————————————–
Hull KR                                          P23 W9 D2 L12             Points:20
Wakefield Trinity Wildcats       P23 W9 D1 L13               Points:19
Hull FC                                          P23 W8 D2 L13              Points:18
Salford Red Devils                      P23 W8 D1 L14               Points:17
————————————————————————–
Bradford Bulls     (R)                 P23 W6 D0 L17             Points:6
London Broncos (R)                  P23 W0 D0 L23            Points:0
Kingstone Press Championship
Leigh Centurions                       P22 W21 D0 L1              Points:64
Featherstone Rovers                 P22 W16 D1 L5               Points:54
Halifax                                         P22 W14 D2 L6               Points:52
Doncaster                                    P22 W14 D1 L7               Points:48
Dewsbury Rams                        P22 W12  D0 L10           Points:42
Workington Town                    P22 W10 D1 L11              Points:41
Sheffield Eagles                         P21 W11 D0 L0              Points:39
Keighley Cougars                      P22 W11 D0 L11             Points:38
————————————————————————–
Batley Bulldogs                          P22 W10 D1 L11            Points:38
————————————————————————–
Whitehaven                                P22 W10 D0 L12          Points:35
North Wales Crusaders           P22 W6 D0 L16            Points:26
Rochdale Hornets (R)             P21 W7 D0 L14             Points:24
Swinton Lions    (R)                P22 W5 D0 L17            Points:23
Barrow Raiders   (R)                P22 W3 D0 L19             Points:15
Kingstone Press Championship One
York City Knights                    P17 W14 D0 L3             Points:45
Oldham                                      P17 W13 D1 L3              Points:42
Hunslet Hawks                        P16 W12 D0 L4             Points:39
Gateshead                                 P17 W9 D0 L8             Points:29
Hemel Stags                             P16 W7 D1 L8               Points:28
————————————————————————–
Gloucestershire All Golds      P16 W7 D0 L9              Points:26
London Skolars                       P16 W4 D0 L12            Points:19
Oxford                                       P17 W5 D0 L12            Points:16
South Wales Scorpions          P16 W2 D0 L14            Points:8
Comment on this and other stories on the Total Rugby League Fans Forum