"This means as much to me now as it would have done if I'd received the award 20 years ago and it will sit proudly alongside my Great Britain caps."
He won a joint record 46 Great Britain caps and an OBE. 20 years on from his greatest performances, Garry Schofield scoops the Golden Boot.
Words: Richard de la Riviere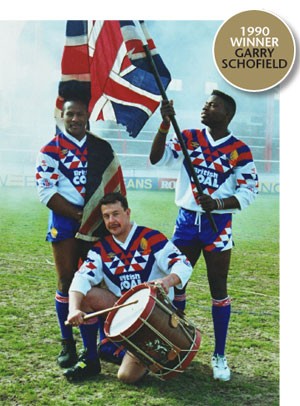 The 25-year history of Rugby League's Golden Boot throws up so many intriguing tales, not least the winner that never was.
To cut a long story short, Adidas in Australia sponsored the award that was the brainchild of Open Rugby magazine back in the mid to late-eighties. The inaugural award went to Wally Lewis, the Australian captain, for his performances for club, state and country in 1984 with his international teammates Brett Kenny and Garry Jack scooping the award in the next two years.
But problems began to materialise in 1987 when Harry Edgar, the publisher and editor of Open Rugby, informed Adidas that the New Zealander Hugh McGahan was to win the next Boot on account of his wonderful performances in 1987. Adidas, clearly wanting an Australian winner, demanded that Peter Sterling win the award. Edgar was unhappy but settled for a draw, and the players shared the award.
There could be no arguments over the next winner, Ellery Hanley, who picked up the award based on his sensational displays for Wigan, Balmain and Great Britain in 1988, but Adidas were less than impressed when Hanley collected the award dressed in Puma gear. Hanley, in turn, had been unimpressed that Adidas, for the first time, hadn't forked out on a lavish awards ceremony: he was instead asked to drive to Newcastle, a couple of hours from his Sydney base, to collect the award at a low-key pitchside presentation.
Two years later when Adidas were informed of another non-Australian winner, they refused to sanction it. For Edgar, the Golden Boot had turned into an annual battle with its Aussie sponsors, and, sadly, as a result, the plug was pulled. The would-be 1990 winner had an inkling of what had happened, but it wasn't until 2007 that Edgar broke his silence on the real reason for the demise of the ultimate individual Rugby League honour when he revealed that the Leeds and Great Britain stand-off, Garry Schofield, should have been formally recognised as the world's greatest player for his superb international performances in the first year of the new decade.
Better late than never
Rugby League World, which bought out Open Rugby in 1998 and re-introduced the Boot in 1999, is now proud to be able to put that right and later this year, 21 years on, Schofield will finally be handed the coveted Golden Boot. Over the coming months we will look in depth at each year from 1991 to 1998 to fill in the missing years. But there is to be no debate over the 1990 winner as Edgar told us last year: "After Garry's performances in 1990, he should have been the rightful winner. He'd been absolutely outstanding on the tour to New Zealand and in the Ashes series against Australia – the closest we've been to them in years. Garry was a brilliant player – no one can deny that."
Schofield's international career began when he was selected to tour Australia in 1984. He lost his first six Ashes Tests as Great Britain were whitewashed in 1984 and 1986 although the young centre scored seven tries in those games, including one in '84 that was adjudged the try of the decade. In 1985 he scored four tries in one Test as Great Britain hammered New Zealand at Wigan but injury cost him the chance to experience Britain's famous win in Sydney in 1988 and their Test series win over the Kiwis in 1989.
He came back into the side in 1990 and after two wins over France, was selected to be vice-captain of Great Britain's tour of Papua New Guinea and Australia. It was a tour that a few of the high-profile players didn't fancy as Jonathan Davies, the recent convert from rugby union, remembers: "We were missing a lot of players from that tour who probably didn't fancy touring New Zealand and, in particular, Papua New Guinea. We drew one-all with Papua New Guinea but upset the form book to win the series in New Zealand and Garry was the difference in an attacking sense. We won both of those first two Tests by just a point with him in great form, making breaks and creating tries. He had a great career, but I think that was the best rugby he ever produced."
Ray Fletcher, the veteran Rugby League journalist, who along with David Howes, produced two decades of Rothmans Yearbooks in the 1980s and 1990s is adamant that Schofield thoroughly deserves his Golden Boot and rates him better than Ellery Hanley as the best British player he has ever seen and alongside Lewis, the inaugural winner of the Boot.
"Garry was a top-class club player, no doubt about it," he says. "I always felt that Schofield was one of the few players that went above his club form, on the international scene, and that's saying something because he was so good for Leeds. Leeds were never the best of teams, but he was the key man and very often he dragged them to victory in many games. He also adapted very well because he started off as a poaching type of centre and ended up as a playmaker and an exceptional team man when he moved to stand-off.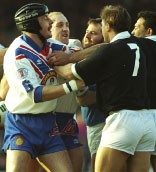 "I'd put him ahead of Ellery Hanley based on his exceptional Great Britain career. We're talking about a time when we were getting well beaten but he still produced great performances.
"I recall the 1990 tour when Schoey was the vice-captain and he dictated absolutely everything on the field. In the three Tests he had a hand in or scored every try. I remember from the records I kept around that time that he was involved in 18 out of 20 successive Great Britain tries. That's an incredible feat.
"He was also very good with the press because we'd had Ellery as captain but when Schoey took over, he got the message across to the press as well as the players. He changed the feel of the tour as it had been a closed shop under Ellery, and the entire squad was more approachable. I can't speak highly enough of him.
"I was on the panel that awarded him the 1991 Man of Steel, and we took into account performances from the summer of 1990, so that included what he did in New Zealand, and I'm delighted he's finally being given this Golden Boot. I'll accept that Wally was the Emperor, but from what I saw of him, Garry was on a par because Garry never had the great players around him that Wally did."
Exceptional performances aside, 1990 was also a big year for Schofield because it was the one that saw him move from centre to stand-off.
"It was David Ward, my coach at Leeds, who first moved me to stand-off and the extra responsibility put a smile on my face," says Schofield. "I felt that I was being wasted in the centres at Leeds and I wasn't getting the service I needed at the time. If it wasn't for David taking that chance, I wouldn't have played there for Great Britain and I probably wouldn't have won this Golden Boot.
"I always roamed in the middle of the field as a centre. I knew I had it in me to play a more central role but I don't think I'd have ever asked. Malcolm Reilly then decided to play me there for Great Britain, but I got off to a nightmare start, having a shocker in the first Test against Papua New Guinea, a game we lost by a couple of points.
"I had an awful game, absolutely shocking. Nothing went right for me at all and when we were back at the hotel, Malcolm Reilly came up to me and actually asked me if I knew how to play stand-off!
"'You're the main man on the field and you take charge!' he told me, but he hadn't said that before the game. I got murdered for it and everyone was asking why, when I was usually a centre, was playing at stand-off for my country. But after he said he wanted to take control, it was like music to my ears. That's not coaching, it's man-management and Malcolm was brilliant at it.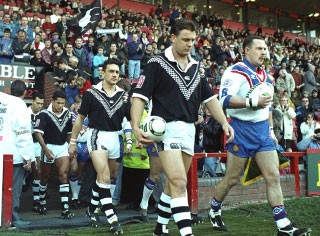 "My best performances that year came in the Test series in New Zealand and I loved it when Phil Clarke told me that Shaun Edwards's dad put pictures of me wearing the Great Britain number-six jersey up in his kitchen to motivate him into getting the jersey back. But from then on, Shaun wasn't getting that jersey back, it was mine. I took a lot of job satisfaction from being good at what I'd been asked to do.
"All the big boys had pulled out but it probably worked in our favour. Mike Gregory turned out to be an excellent captain. What Mike did was make sure that everybody was part of the touring team, from 1 to 26. It wasn't the most talented team that went out there, but, boy oh boy, did we want to win a Test series down under.
"I've been on four tours, and it was certainly the most enjoyable from a team-spirit point of view. There were no cliques and I don't think we'd have had the same team spirit if the big players had been there. Big players have big egos and if you have too many, the team spirit can suffer sometimes."
Full of belief
After producing an against-the-odds series win against the Kiwis, the British went into their series against the touring Kangaroos full of belief that they could win back the Ashes after 20 years of Australian victories.
"The guys knew that the team would be broken up for the big names to come back into the squad to play Australia," said Schofield. "They were realistic about it but they'd gone down in history and could be proud of everything they did. It wasn't an issue because they knew players would be coming back. If we were going to beat the Aussies in 1990, we needed Ellery and the others back so it wasn't an issue.
"We knew we could win the Ashes and the interest levels were massive compared to now. The international scene has declined now because there are no expectations. Back then, there was. Nowadays, I don't think even the players believe they can win a series. We did have the belief and in those days there were far more column inches devoted to the sport. The newspapers went really big on the Ashes and the games were on BBC1, rather than on Sky, where the audience is limited. Our best players were much higher profile now and plenty of non-Rugby League fans would have been tuning in to watch."
Schofield helped Great Britain to one of their most famous wins against Australia by producing another great performance in a fondly-remembered 19-12 win, but was helpless to prevent a heartbreaking last-minute Mal Meninga try at Old Trafford in the second Test. It wrested control of the series away from Schofield's men, and the Kangaroos wrapped up the series at Elland Road.
"Wembley was a massive experience – it was incredible. We played the game at our pace, kicking early in the tackle count, walking to scrums and frustrating the Aussies. The first 40 minutes were great and we knew we had the Aussies where we wanted them. Malcolm told us to stick to what we were doing and we'd win. Not one player went from the gameplan and we delivered a really professional performance in the second half. Ellery had a great game and we typified what British Rugby League was all about by producing some great off-the-cuff play.
"We couldn't wait for the second Test. There were two weeks between each game, but we wanted to be out there straightaway. People were desperate for tickets and the RFL Headquarters at Chapeltown Road could barely cope with the demand. The national media were so interested in us because we had the Aussies on the ropes. Again, the atmosphere was absolutely fantastic. We had the same gameplan, kicking early and slowing the game down. It was working again, with another nip-and-tuck game. Paul Dixon and I produced a Leeds move for a try but Cliff Lyons scored a great try. But we didn't panic and Paul Loughlin scored that great intercept but, as we all know, he chose not to kick the goal. Paul Eastwood took it and sadly missed and we all know what happened at the end.
"They won a late scrum near their line and I'm sure Lee Jackson gets reminded all the time that he bought Ricky Stuart's dummy. Ricky went 50 or 60 metres and Mal Meninga supported to score. Mal fouled Carl Gibson to get there but there are no excuses. It shouldn't have happened but the Aussies played for 80 minutes, and all credit to them. It's still heartbreaking to talk about it now! We were devastated because we knew we'd played well enough to win.
"If I'm honest, I think that, looking back, the Aussies were always going to win the third Test. The pressurised games they play every week helped them later in the series. We didn't have enough players who could cope with that level of intensity. They had 15 such players, we only had seven or eight probably and that's why we fell down, and the same for 1992."
As for being the winner of the Golden Boot that never was, until now, Schofield says: "I'd heard a rumour at the time that I was in line to win the Golden Boot but then I heard nothing. I made an enquiry but heard the sponsor had pulled out. I was disappointed of course, but didn't think much more about it.
"Being formally recognised now is, for me, recognition of what coaches like David Ward, Arthur Bunting, Frank Stanton and Malcolm Reilly did for me and when you look at the list of winners, it's an unbelievable feeling to be joining it. Wally, Sterlo, Brett and Hugh McGahan were amazing players.
"I enjoyed every minute of my career and owe my mum and dad so much for supporting me like they did, buying me my first pair of boots for three quid. There was also all the support from Adele, my wife at the time, and my kids Danielle and Jonathan. You need that sort of support if you're going to be successful at anything.
"This means as much to me now as it would have done if I'd received the award 20 years ago and it will sit proudly alongside my Great Britain caps."
First published in Rugby League World, issue 362 (June 2011)