However hazy your memory, if you're old enough you'll remember 1994 as a magical Rugby League year.
Richard de la Riviere looks back at the events and the leading stars of 1994.
Two moments at Wembley will never be forgotten. Martin Offiah scored what has become one of the Challenge Cup's most famous tries in Wigan's victory over Leeds, a few months before Jonathan Davies sliced through the Australian backline, to send nearly 60,000 fans into raptures, as Great Britain beat Australia in an Ashes Test with just 12 men.
Wigan went to Australia and won the World Club Challenge in Brisbane's back yard, with no props, while also down under, Mark Coyne produced State of Origin's most incredible moment to date, finishing off a sweeping, last-gasp move to snatch victory for Queensland. And the great Mal Meninga enjoyed the most wonderful end to a career by scoring a late interception try in Canberra's Grand Final win over Canterbury, before he led Australia to more Ashes glory on his fourth Kangaroo tour, his second as captain.
On both sides of the world, Rugby League was in magnificent health in 1994, with entertainment the order of the day. But, behind the scenes were the first whispers of the two words which would tear the game apart in Australia, with ramifications to be felt all over the Rugby League world: Super League.
The year started with a major surprise as Castleford clinically dismantled Wigan at Headingley in the Regal Trophy Final, with prop forward and goalkicker, Martin Ketteridge, the man of the match. Wigan were beaten 33-2, but, sadly for their rivals, it was little more than a one-off, as they were strong enough to hold off Bradford and Warrington to win another league title, before they beat Leeds in a classic Challenge Cup final. Offiah's scintillating try stole the show, and another vital second-half effort stymied a Leeds fightback. Offiah picked up his second Lance Todd Trophy in three years.
But their biggest achievement in 1994, and possibly the finest in the club's history, came in Brisbane as they travelled down under to contest the World Club Challenge which was to be played, for the first time, during the Australian season. Advantage to the Broncos, perhaps, especially as Wigan were facing a prop-forward crisis. However Billy McGinty, who had just put pen to paper for newly-promoted Workington, saved his best performance to last, and admirably filled the gap left by Andy Platt and Kelvin Skerrett as Wigan rocked Wayne Bennett's Broncos with a magnificent performance. Tries to Denis Betts, Barrie-Jon Mather and Jason Robinson enabled man-of-the-match Shaun Edwards to pick up the trophy which crowned Wigan the world's best side for the third time in eight years.
After winning Grand Finals in 1992 and 1993, the Broncos continued to find the going tough in 1994, and it was Canberra Raiders and Canterbury Bulldogs who contested the Grand Final. The key moment of the match came just before half-time when Laurie Daley scored a superb individual try to put his side in a commanding position, but it was Meninga, in his farewell performance on home soil, who stole the show with his late cameo. The Raiders, with David Furner winning the Clive Churchill Medal as the game's stand-out player, won by a convincing 36-12.
State of Origin found new dramatic heights at the Sydney Football Stadium in game one when, with New South Wales holding on to a narrow lead in the last minute, the Maroons swept upfield courtesy of a left-side break from Steve Renouf. The ball came back to the right with Allan Langer and Meninga prominent before Mark Coyne forced his way over the line to send every Queenslander, not least his coach, Wally Lewis, into raptures. But the Blues, with Benny Elias who was in his last Origin series instrumental, fought back to take the series with wins in Melbourne – which saw a record Australian Rugby League crowd – and Brisbane in the decider.
The international year began with the World Sevens, where unlikely league-playing nations like Japan wowed big crowds. France played several Tests in 1994, losing narrowly to Wales and then Great Britain before embarking upon a tour of the Southern Hemisphere which saw them lose to Papua New Guinea, Australia and Fiji, although the latter wasn't considered a full Test. The Kumuls also hosted New Zealand, and performed admirably, only losing by margins of 16 and 14 to full-strength Kiwi sides, containing the likes of Matthew Ridge, Ruben Wiki, Gary Freeman, Tawera Nikau and Stephen Kearney. Sat on the home side's bench was a certain Stanley Gene, a try scorer in the second Test.
But there was one international event that above all others had Rugby League fans talking in 1994. The Ashes. With Britain performing so magnificently in 1990 and 1992, hopes were high that they could win the three-match series for the first time in 24 years, even with Ellery Hanley's international playing days behind him. With Malcolm Reilly accepting a job from Newcastle Knights, Hanley instead turned his hand to coaching the side with Sheffield Eagles coach Gary Hetherington, assisting him.
The Australians brought over a galaxy of stars, with Meninga skippering his second full Kangaroo tour. Also on the plane were Laurie Daley, Bradley Clyde, Brad Fittler, Steve Walters, Allan Langer, Ricky Stuart, Andrew Ettingshausen and Ian Roberts. New faces to the British fans included Canberra's mesmeric fullback, Brett Mullins, who had enjoyed a wonderful Winfield Cup season, and a young Brisbane winger by the name of Wendell Sailor.
Having swept aside Cumbria, Leeds, Wigan, Castleford and Halifax, all eyes turned to Wembley for the first Ashes Test. Hanley surprised a few by dropping Garry Schofield, who had captained the side earlier in the year against France, with Shaun Edwards leading the side. But Edwards made his mark in the worst way possible by chopping down Clyde with a high tackle as he stepped inside him. Australian referee Graham Annesley sent Edwards off with only half an hour gone, and with him, it seemed, went Britain's hopes.
Edwards later admitted to spending the rest of the match outside the stadium smoking cigarettes with a steward, to help calm his nerves. Inside the ground, though, Welsh wizard Jonathan Davies produced one of the great Ashes moments, by slicing through the Kangaroos' line and beating Mullins in a thrilling race to the corner. 6-0 up at half-time, the home side, superbly marshalled by substitute Bobbie Goulding, tackled their hearts out in the second half and held on even after a late Steve Renouf try, with Goulding tacking on a late penalty to clinch his side an 8-4 win.
With Edwards suspended and Davies injured, Great Britain collapsed at Old Trafford, losing 38-8, with a Rod Wishart try, after Meninga had intercepted a Goulding pass, opening the floodgates. With the Kangaroos finding their best form late in the tour, they were too strong for a British side in the third match at Elland Road, running out 23-4 winners. Steve Walters produced a fabulous performance for the visitors, while, for Great Britain, Schofield equalled Mick Sullivan's record of 46 caps with his first-half introduction as a substitute.
The Contenders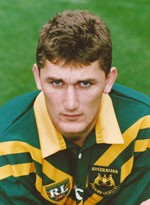 Brett Mullins
Mullins produced a year of magnificent attacking fullback play for Canberra Raiders, who ended the year thrashing Canterbury in the Grand Final. Midway through the year, Mullins scored four tries at Newcastle, two of which he ran the length of the field in a performance which is fondly remembered today. Combining magnificently with Laurie Daley, Mullins was a devastating broken-field runner who ran in try after try in 1994. He made his State of Origin debut, albeit on the wing, and made an immediate impression with a 40-metre break early in the first match. He became Australia's fullback and won selection in Open Rugby's World XIII.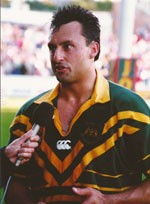 Laurie Daley
Daley won everything in 1994 – a Grand Final, State of Origin and an Ashes Test series, and he was unsurprisingly right at the heart of all three achievements. His vital Grand Final try remains an iconic moment, not to mention one of the most famous individual tries of the 1990s. His form propelled the Raiders to a third Premiership in six years and his try in the deciding Origin game helped New South Wales to an unassailable 18-0 lead, an incredible feat given that the game was being played at Lang Park. For Australia, his tries in the second and third Tests went a long way to the green and golds regaining the Ashes.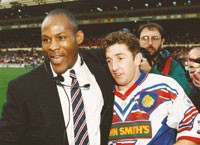 Jonathan Davies
Davies' Man of Steel performances in the first half of 1994 went within an ace of winning Warrington the league title, but they eventually finished third on points difference behind Wigan and Bradford. In the twilight of his career, the Welshman was far more than an organiser and tactical kicker as his 17 tries proved. But it is for what happened later in the year that Davies is best remembered, indeed his entire League career is beautifully encapsulated by that magical try against Australia at Wembley.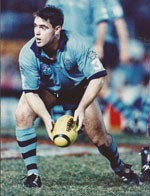 Brad Fittler
The Penrith sensation was fast becoming the hottest property in the game by 1994 and it was no surprise that he was offered a million-dollar contract at the height of the Super League war which was just around the corner. Fittler's Panthers failed to reach the Winfield Cup semi-finals but he was becoming much more of an integral part of his representative teams, demonstrating his versatility by playing in the centre for New South Wales and at loose forward for Australia against Great Britain.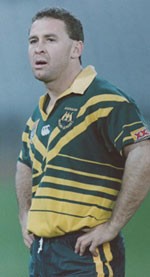 Ricky Stuart
After his injury disappointment in 1993, when his late sidelining cost the Raiders a realistic tilt at the Grand Final, Stuart bounced back emphatically in 1994 by tasting success at all three levels of the game. For Canberra, he slotted back into the side like he'd never been away as they won 17 of their 22 games to finish third before turning on the style in September, when it mattered most. He was excellent again at State level as the Blues won their third-straight series, and on the Kangaroo tour, he repeated his feat of four years earlier by coming into the side in the second Test and helping his country overturn a one-match deficit to win the Ashes.
Steve Walters
Walters was at the hub of all the good stuff produced by Canberra Raiders, Queensland and Australia. His astute dummy-half play was, by 1994, fast seeing him regarded as one of the finest – if not the finest – hookers of all time. Although the Origin series was to ultimately end in defeat for Queensland, he won his annual duel with Benny Elias to grab the Australia number-nine jersey and he went on to enjoy a superb Kangaroo tour. His performance at Elland Road in the deciding Test was a masterclass of dummy-half football.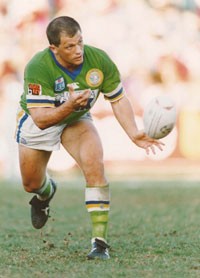 Summary of 1994:
International Rugby League:
Wales 13-12 France
France 4-12 Great Britain
Papua New Guinea 29-22 France
Australia 58-0 France
Fiji 20-12 France
Papua New Guinea 12-28 New Zealand
Great Britain 8-4 Australia
Papua New Guinea 16-30 New Zealand
Wales 4-46 Australia
Great Britain 8-38 Australia
Great Britain 4-23 Australia
France 0-74 Australia
Other Representative Rugby League:
State of Origin:
Game 1: New South Wales 16-12 Queensland
Game 2: Queensland 0-14 New South Wales
Game 3: Queensland 12-27 New South Wales
Domestic Rugby League:
Stones Bitter Championship: 1st Wigan, 2nd Bradford, 3rd Warrington
World Club Challenge – Brisbane Broncos 14-20 Wigan
Challenge Cup Final: Wigan 26-16 Leeds
Regal Trophy Final: Castleford 33-2 Wigan
Premiership Final: Wigan 24-20 Castleford
Winfied Cup Grand Final: Canberra Raiders 36-12 Canterbury Bulldogs
Individual Awards:
Rothmans Medal: David Fairleigh
Dally M Medal: Cliff Lyons
Clive Churchill Medal: David Furner
Man of Steel: Jonathan Davies
Lance Todd Trophy: Martin Offiah
World XIII
1 Brett Mullins (Australia)
2 Andrew Ettingshausen (Australia)
3 Mal Meninga (Australia)
4 Steve Renouf (Australia)
5 Rod Wishart (Australia)
6 Laurie Daley (Australia)
7 Ricky Stuart (Australia)
8 Glenn Lazarus (Australia)
9 Steve Walters (Australia)
10 John Lomax (New Zealand)
11 Bradley Clyde (Australia)
12 Dean Pay (Australia)
13 Brad Fittler (Australia)