1995 was a landmark in Rugby League history as the Super League War almost tore the game apart in its centenary year.
Richard de la Riviere picks out the leading contenders in a tumultuous season.
The divisions in Australia were fast approaching catastrophic proportions, and those clubs that had aligned themselves with the breakaway competition saw their players ignored for State of Origin and World Cup selection – competitions which still came under the Australian Rugby League umbrella. In England, the proposed switch to summer went down comparatively well, but the dirty 'M' word – mergers – resulted in supporter demonstrations throughout the game's heartlands. Just to jog some memories, had those mergers gone through, Calder, Cheshire, Cumbria, Humberside, Manchester and South Yorkshire would have become Super League clubs, with London, Paris and Toulouse joining existing clubs Wigan, St Helens, Leeds, Bradford and Halifax in the inaugural Super League competition which was due to kick off 12 months later. Even though none of the mergers went ahead – fan power won the day – Rugby League would never be the same again, on either side of the world.
For once, international Rugby League dominated the calendar with a European Championship, a Trans-Tasman Test series and a World Cup pencilled in. And not just any old badly-organised Rugby League World Cup, this was a relative extravaganza with ten sides involved in a month-long competition beginning and ending at Wembley as Rugby League celebrated, with some flamboyance, its 100th birthday. And encouragingly, alongside it, ran an Emerging Nations World Cup.
Even though it was dwarfed by Test football, the domestic scene delivered aplenty. In England, Wigan continued to rule the roost as they won everything that was up for grabs. They hammered Warrington, Leeds and Leeds again as they scooped the Regal Trophy, the Challenge Cup and the Premiership with Phil Clarke, Jason Robinson and Kris Radlinski adjudged to be the star men in each of those finals. They also won the league again, beating Leeds into second place. The Loiners bade farewell to Ellery Hanley, who enjoyed a magnificent season, scoring over 40 tries – a rarity for a forward. The former Great Britain captain left the English game on a hefty ARL contract to see out his playing days with Balmain Tigers, the club he had graced so memorably in 1988, his Golden Boot year.
Down Under, Dean Bell captained the new-born Auckland Warriors as a 20-team Winfield Cup expanded into New Zealand. With Denis Betts and Andy Platt also in the side, the Warriors were narrowly beaten by Brisbane Broncos in their maiden game. But further into the season they suffered the humiliation of having two points deducted for a substitution irregularity – lost points that cost them a semi-final berth. The competition, which enjoyed magnificent crowds that year, also spread to Townsville and Perth as North Queensland Cowboys and the Western Reds took their places at the starting line-up, and they were joined by the South Queensland Crushers. The Grand Final was eventually won by sixth-placed Sydney Bulldogs (previously and soon-to-be-again Canterbury), who beat Minor Premiers Manly 17-4 in a controversial final, with loose forward Jim Dymock winning the Clive Churchill Medal as the game's outstanding competitor. Paul Green, the Cronulla half, and Laurie Daley, Canberra's stand-off, picked up the Rothmans and Dally M Medals as the season's best players, with Daley, who, as a Canberra Raider, was ostracised from the representative scene, also picking up the Rugby League Week player of the year.
When it came to making headlines, however, the last-ever Winfield Cup had nothing on State of Origin. Thrice-consecutive losers heading into 1995, Queensland appeared to be the big victims in the decision that saw Super League players excluded from Origin. That meant they could call on none of the Brisbane Broncos side that had provided them with most of their players since the Broncos' 1988 inception and for the first time, they were also without Mal Meninga, who had hung up his boots at the end of 1994. As Adrian Lam, the Papuan scrum-half who was controversially selected for the Maroons despite playing Test football for another country, remembered: "Queenslanders were handing in their tickets for the third game at Brisbane because they thought we would lose in Sydney and Melbourne and it would be all over." Far from it! Queensland won the first game 2-0, the second – which was memorable for a humdinger of a brawl, even by Origin standards – 20-12, and the third 24-16. It remains the most remarkable against-the-odds achievement in Origin history, a story made furthermore fascinating by the fact that the Maroons were coached by TV commentator Paul 'Fatty' Vautin, who had never before, or since, coached at club level.
At Test level, Wales won the European Championship with Workington duo Kevin Ellis and Rowland Phillips inspiring the Dragons to an 18-16 win over England at Ninian Park, before they wrapped up the tournament with a 22-10 win in Carcassonne. In Australia, the Green and Golds whitewashed the Kiwis in a three-Test series with captain and stand-off, Brad Fittler, man of the match in all three. Elsewhere, the former Great Britain player Joe Lydon came off the bench to help Ireland beat America.
But all eyes were on the Centenary World Cup. England stunned the Kangaroos at Wembley and nilled both Fiji and South Africa in the group stages, to set up a semi-final clash with the Welsh, who had been wonderfully impressive in beating Va'aiga Tuigamala's Western Samoa at Swansea in front of 15,385 fans. Fittler's Aussies were to meet New Zealand in the other semi-final, the Kiwis having been deeply unimpressive so far in the competition, almost losing to Tonga at Warrington.
At Old Trafford, Wales were cheered on by 10,000 travelling fans but England, with Bobbie Goulding pulling the strings, were too good as they beat them 25-10 in what proved to be Jonathan Davies's last game of Rugby League. At Huddersfield the following day, Australia and New Zealand produced an all-time classic international game. It seemed that the Aussies were coasting to victory until a late Kiwi comeback brought the game to life. Kevin Iro's 78th-minute try left Matthew Ridge with a touchline conversion to win the game, but he skewed his kick badly. There was still time for the Manly fullback to launch an incredible field-goal attempt with his wrong foot from the halfway line, but it floated inches wide and the game went to extra-time, where the Kangaroos clinched victory with two further tries.
The final wasn't a classic, and it was another huge disappointment for the English as they lost 16-8 to an Andrew Johns-inspired Australia. Paul Newlove's first-half try had given England hope, but a contentious decision to judge that Martin Offiah had put a foot in touch cost England the chance to take a second-half lead. Fittler lifted the trophy to cap a magnificent Australian achievement, given that they had toured without at least half of their best players.
In England, the poor-quality truncated Centenary Season, which saw teams playing twice a week, limped on with Wigan ending the year in pole position, again ahead of bridesmaids Leeds. And as 1996 dawned, there was to be no looking back for Rugby League as it put all its eggs into the summer basket. But would Super League deliver all it promised?
The Contenders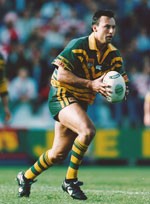 Laurie Daley
Daley was denied a place in the World XIII largely due to the fact that he was exiled from the State of Origin and Test arena and he suffered further disappointment when he missed out on the Canberra Raiders captaincy to Ricky Stuart. All he could do was prove his worth in his Raiders jersey, and he did that with aplomb as he scooped two major individual honours for his season's performance, which was as good as any in what was becoming an outstanding career. With Mal Meninga now retired, he helped the Raiders into second place – level on points with Manly – but they failed to reach the Grand Final. He was also voted the club's player of the year.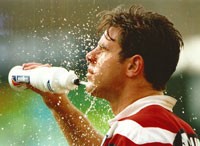 Brad Fittler
Freddie was absolutely outstanding for Australia, both in the Test series against New Zealand, which they won with consummate ease, and also in the World Cup, which ended with him lifting the trophy at Wembley Stadium. But he suffered disappointment with his new club, Sydney Roosters, as they failed to make the Winfield Cup semi-finals and in State of Origin, where the Blues, massive favourites, lost out to Queensland in a never-to-be-forgotten series. But no-one could complain at Fittler's performances in either side and he so nearly helped an Origin decider but his pass to fullback Tim Brasher towards the end of game two was ruled forward.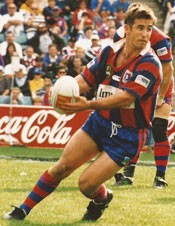 Andrew Johns
Johns missed out on World XIII selection but that was perhaps down to the fact he played at hooker for Australia and in his usual scrum-half role for Newcastle and New South Wales, meaning that his votes were split over the two categories. But wherever he played he was in splendid form throughout the year, as he continued to forge a reputation which would grow and grow in what was fast becoming an illustrious career. He saved his best for the World Cup final as his man-of-the-match display helped Australia sink England in a closely fought final.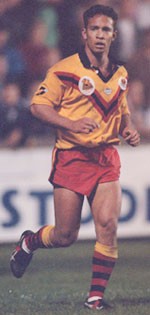 Adrian Lam
Lam broke into an Australia-dominated World XIII, beating off competition from the likes of Geoff Toovey, Andrew Johns, Allan Langer, Ricky Stuart and Shaun Edwards, with a series of brilliant performances on the representative scene. His State of Origin selection may have been questioned on account of his Papua New Guinean roots, but when it came to performance, the doubters were silenced. Lam was magnificent in helping the Maroons pull off a hugely unexpected series whitewash of the Blues. In the World Cup, he helped the unfancied Kumuls pull off a draw with Tonga and they performed admirably against New Zealand, going down only by 16 points.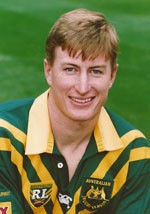 Steve Menzies
Menzies became the first forward in 50 years to top the tryscoring list in Australia, notching 22 tries as he built on an excellent 1994, the year that had seen him rise to prominence. His Sea Eagles performances played no small part in the club winning the Minor Premiership, and he helped them to the Grand Final, where they were controversially beaten by the Bulldogs. He made his State of Origin debut for the Blues and was voted the best second-rower in the Winfield Cup at the Dally M awards. He went on to enjoy a magnificent World Cup, scoring six tries – more than any other player – and his man-of-the-match performance in the semi-final saw the Kangaroos hold off a strong Kiwi surge.
Jason Robinson
Robinson cites his omission from the 1994 Challenge Cup final as the turning point of his career and his form in 1995 backed that up. He won the Lance Todd trophy as the best player in the 1995 Wembley final as Wigan swept aside his home-town club, Leeds, and his week-in, week-out performances in the cherry and white were instrumental in them winning everything else on offer. For England, he scored the crucial try as the host nation beat Australia in the opening game of the Centenary World Cup and he went on to sign a lucrative ARL contract – although it was later bought out by Wigan – and he was named as the game's best winger in the annual world ratings.
Summary of 1995:
International Rugby League:
Wales 18-16 England
England 19-16 France
France 10-22 Wales
USA 22-24 Ireland
Australia 26-8 New Zealand
Australia 20-10 New Zealand
Australia 48-10 New Zealand
USA 10-66 Wales
USA 4-92 Wales
New Zealand 22-6 France
New Zealand 16-16 France
Canada 32-72 France
World Cup:
England 20-16 Australia
Fiji 52-6 South Africa
Australia 86-6 South Africa
England 46-0 Fiji
Australia 66-0 Fiji
England 46-0 South Africa
New Zealand 25-24 Tonga
Tonga 28-28 Papua New Guinea
New Zealand 22-6 Papua New Guinea
Wales 28-6 France
Western Samoa 56-10 France
Wales 22-10 Western Samoa
England 25-10 Wales
Australia 30-20 New Zealand (aet)
England 8-16 Australia
Emerging Nations:
Cook Islands 64-6 USA
Scotland 34-9 Russia
Cook Islands 58-20 Russia
Scotland 38-16 USA
Cook Islands 21-10 Scotland
Russia 28-26 USA
Ireland 48-26 Moldova
Moldova 24-19 Morocco
Ireland 42-6 Morocco
Cook Islands 22-6 Ireland
Other Representative Rugby League:
State of Origin:
Game 1: New South Wales 0-2 Queensland
Game 2: Queensland 20-12 New South Wales
Game 3: Queensland 24-16 New South Wales
Domestic Rugby League:
Stones Bitter Championship: 1st Wigan 2nd Leeds 3rd Castleford
Challenge Cup Final: Wigan 30-10 Leeds
Regal Trophy Final: Wigan 40-10 Warrington
Premiership Final: Wigan 69-12 Leeds
Winfied Cup Grand Final: Sydney Bulldogs 17-4 Manly
Individual Awards:
Rothmans Medal: Paul Green
Dally M Medal: Laurie Daley
Clive Churchill Medal: Jim Dymock
Man of Steel: Denis Betts
Lance Todd Trophy: Jason Robinson
World XIII
1 Tim Brasher (Australia)
2 Jason Robinson (England)
3 Steve Renouf (Australia)
4 Mark Coyne (Australia)
5 Rod Wishart (Australia)
6 Brad Fittler (Australia)
7 Adrian Lam (Papua New Guinea)
8 Dean Pay (Australia)
9 Lee Jackson (England)
10 Mark Carroll (Australia)
11 Steve Menzies (Australia)
12 Gary Larson (Australia)
13 Andy Farrell (England)