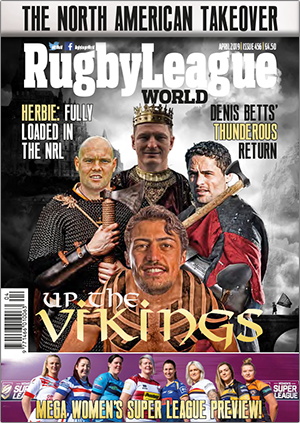 It has been a traumatic few weeks for Widnes Vikings and we've got the fascinating behind the scenes story of how the club was saved from disaster as our lead feature in this month's Rugby League World.
Also, former Vikings coach Denis Betts tells us about his return to the game at Newcastle Thunder.
On the field, we've selected Teams of the Month for the Betfred Super League, Championship and League 1 plus a Combined XIII for the famous Five Towns area. See if you agree with our selections!
Are we about to see an explosion in Rugby League activity in North America? We talk to the people behind audacious bids to establish new clubs in New York and Ottawa and ask clubs and players in the Championship and League 1 for their thoughts on the potential impact on the domestic game.
Saints' Fijian international Kevin Naiqama steps up to answer your questions in our latest Quickfire Q & A and Luke Gale files his second exclusive column for RLW charting his road to recovery.
We have a detailed club-by-club preview of the new Women's Super League season which kicks off on 7th April.
We've compiled an entertaining Top 10 of Rugby League's celebrity supporters and if it's history you're after, we look back to a little-remembered Rugby League international at Wembley Stadium where France shocked England in 1949.
West Wales Raiders player Ryan Shallish tells us how he hasn't allowed deafness hold him back from pursuing a professional Rugby League career and we also chat to several former Hemel Stags players who have moved onwards and upwards since the club's departure from League 1.
At grassroots level, we profile Rochdale Mayfield, a club with a proven track record of providing a pathway into the professional game for ambitious players.
On the NRL scene, we talk to Herbie Farnworth, a young Brit aiming to make his mark with Brisbane Broncos.
On the international stage we've got stories from the Netherlands, USA and Lithuania plus our regular coverage from France and Wales.
All this and plenty more in another packed issue.
It's available to read online now at www.totalrl.com/rlw
In shops across the UK from Friday 29th March – find your nearest outlet here.
Or you can order a copy for delivery by post in the UK and worldwide from the TotalRL.com Shop