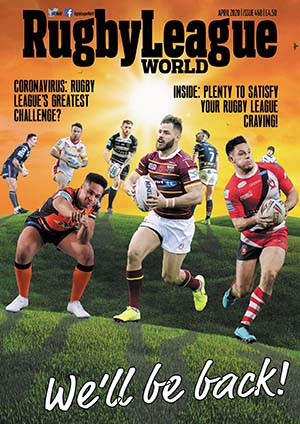 Update – 10th Nov 2020: We suspended publication of Rugby League World at the start of the coronavirus pandemic and subsequent lockdown in the UK. Our most recent issue was number 468, cover dated April 2020 (pictured). Print copies of this issue are now sold out, but the digital edition can still be purchased to read online via Pocketmags.
It has been a difficult decision for us to work out when is the best time to resume publication of Rugby League World.
The pandemic is still ongoing and the UK has now entered into a second period of national lockdown until at least 2nd December 2020.
With the domestic season severely curtailed, and no international activity, that limits the content we can produce.
We don't want to restart the magazine and then have to suspend it again soon after.
The retail news market continues to find itself in terrible shape, with footfall in key stores based in travel hubs like bus and railway stations, and high streets too, at an all time low.
As a result, we have decided to keep the magazine on hold until such time as the domestic season in the UK fully restarts and fans are allowed back into our stadiums.
Subscriptions are currently paused, to ensure no one loses any value on what they have paid for. Subscribers will automatically receive any new issues as and when they are published, and we will promote the return of the mag via League Express, TotalRL.com and our social media channels as soon as we can say for absolute certain when we are publishing again.
We sincerely thank all subscribers, readers and supporters of Rugby League World for their continued patience as we all battle our way through these difficult times, it is much appreciated.
Alex Davis, Lorraine Marsden, Matthew Shaw & John Drake
The Rugby League World Editorial Team
---
---